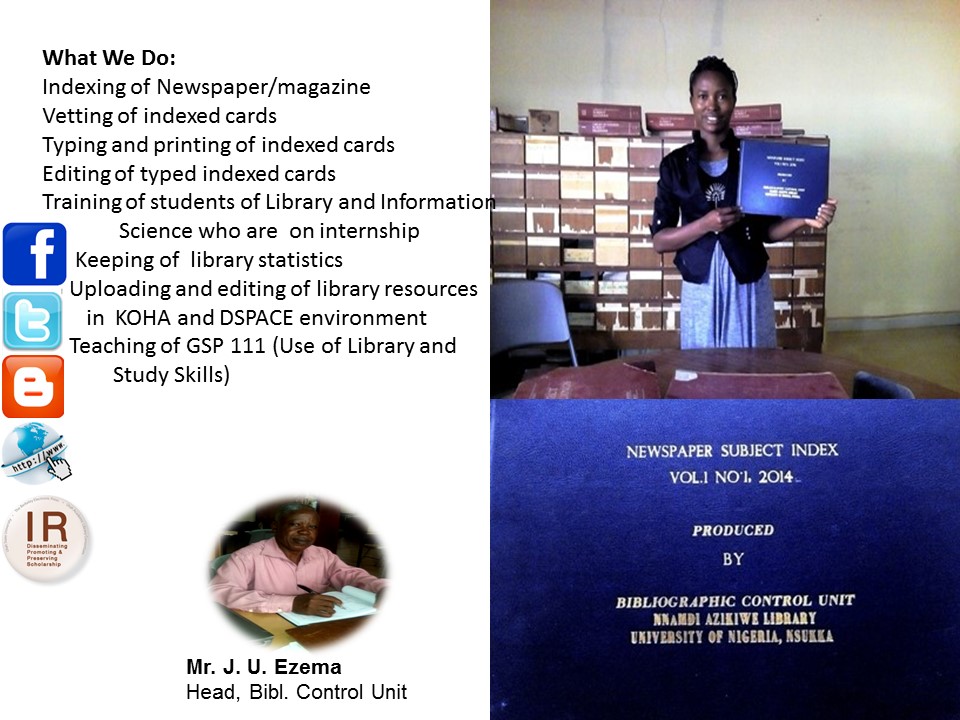 Vision Statement
To make Bibliographic  Control Unit of Nnamdi Azikiwe Library function effectively and efficiently by adopting standardized indexing, as a means of access point through Newspapers/ magazine subject index.
Mission Statement
The overriding objective of the university Library is to make information resources accessible to her patrons in order to fulfill the role  of supporting the parent institution in achieving the basic objectives of teaching, learning and research.
In view of the above, the mission statement of Bibliographic Control Unit of Nnamdi Azikiwe Library, University of Nigeria, Nsukka is to:
Index Newspaper/Magazines using Library of Congress Subject Headings to control the subject index term in form of standardized indexing.
Create access points for visibility through organization and indexing of information resources for library users.
Upload and edit library resources in KOHA and DSPACE environment
Create a friendly environment for our library users, by putting their services in the fore-front of our job.
Who We Are
Bibliographic Control Unit refers to that Unit of Nnamdi Azikiwe Library, University of Nigeria, Nsukka that carry out bibliographic function. The major function is to organize information and create access point for the library users through indexing. Index is a pointer, it points at information. Indexing is an organized procedure by which indexes are produced.
Bibliographic Control Unit is also a technical unit, where we carryout technical functions using the library of congress subject headings. This approach is referred to as standardized or controlled system of indexing.
What We Do:
Indexing of Newspaper/magazine
Vetting of indexed cards
Typing and printing of indexed cards
Editing of typed indexed cards
Training of students of Library and Information Science who are on internship
Keeping of library statistics
Uploading and editing of library resources in KOHA and DSPACE environment
Teaching of GSP 111 (Use of Library and Study Skills)